Katie Curtis

Agent

in West Palm Beach, FL
Associate Information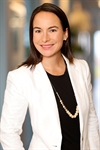 Professional Designations
SRS
Expertise Types
Condominiums, New Homes, Relocation, Residential, Residential Investment, Single Family Homes, Townhomes
Katie has been helping people buy and sell homes for over seven years - since she and her husband relocated to West Palm Beach from the Washington, D.C. area. She prides herself on her track record of thinking outside the box to close deals that others say won't work. Katie is a thoughtful listener who cares deeply about helping her clients make the best decisions for themselves and their families.

Katie earned her Bachelor's degree in Finance from FSU and began her career as a marketing
professional at DayJet, a Boca Raton-based aviation start-up with world-changing aspirations. When the 2008 crisis struck, she moved on to a marketing role at Oce North America, now Canon
Production Printing. Yearning for a career with greater purpose, Katie enrolled in graduate school at George Washington University, where earned her MBA with a certificate in business analytics.
Briefly she worked as an education technology consultant but still longed for the early days of her
career when she could really see the difference her work made.

As a real estate professional, Katie gets to change the world everyday. Maybe not in big ways that
everyone can see, but in ways that create real impacts in real people's lives, and that is the greatest job.
Certifications & Designations:
Casan Collection Certified Luxury Specialist
Member, Institute for Luxury Home Marketing
SRS - Seller Representative Specialist
A few fun facts:
Katie loves life and lives in northern Palm Beach County with her handsome husband, their two beautiful daughters, and the best dog ever. She loves puzzles, podcasts, playing yahtzee and visiting her local library. She has served on the boards of her neighborhood association, city tree board, and a local non-profit.
Emphasizing NextHome's #humansoverhouses philosophy, one week Katie closed a $1.6 million sale and a $160,000 sale, and both families she served felt like her most important client.